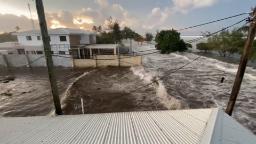 According to CNN affiliate Radio New Zealand, waves crossed the shoreline of Tonga's capital, Nuku'alofa, on Saturday, pouring into coastal roads and flooding.
Tonga's King Tupou VI was evacuated from the Royal Palace after the tsunami flooded the capital, RNZ reported, citing local media reports that a convoy of police and troops rushed the monarch to a villa in Mata Ki Eua.
Residents headed for higher elevations, RNZ said, as waves washed over the palace grounds, waterfront and main street.
Ash fell from the sky in Nuku'alofa on Saturday night and telephone lines were down, according to RNZ.
The Hunga-Tonga-Hunga-Ha'apai volcano first erupted on Friday, sending an ash 20 kilometers (12.4 miles) into the sky, according to RNZ.
A second eruption struck at 5:26 p.m. local time on Saturday, RNZ reported.
The Australian Bureau of Meteorology said it recorded a 1.2-meter (about 4 feet) tsunami wave near Nuku'alofa at 5:30 p.m. local time on Saturday.
The Pacific Tsunami Warning Center said 2.7-foot (83 cm) tsunami waves were observed from meters in Nuku'alofa and 2-foot waves in Pago Pago, the capital of American Samoa, Reuters reported.
.